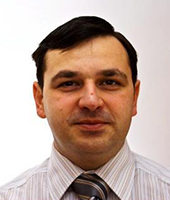 Conferențiar universitar
Departamentul Automatică și Tehnologia Informației
Facultatea de Inginerie Electrică și Știința Calculatoarelor
Contact:
Str. Mihai Viteazul nr. 5 Brașov, Romania
Corp V, sala VIII9
Tel./Fax: +40 268 418 836
E-mail: dan.floroian@unitbv.ro
Descarcă CV
Interese
de
cercetare:
sisteme multiagent,
arhitectura sistemelor de calcul,
controlul sistemelor,
Internet of Things
Publicații
Floroian, D., Floroian, L., Hardware and software systems for variables and automatic register monitoring in embedded systems, Chapter book in New trends on monitoring and diagnosis for health sciences, LAP Lambert Academic Publishing, ISBN:978-3-659-77699-1, 2015.
Cotfas, D.T., Cotfas, P.A., Floroian, D., Floroian, L., Accelerated Life Test for Photovoltaic Cells Using Concentrated Light, Int. J. of Photoenergy, Vol.2016, Article ID 9825683, ISI Journal, Impact Factor 1.277, scor relativ de influență: 0.714
L. Floroian, D. Floroian, M. Badea, Using a Multi-Agent System for Logistic of Mobile Hospital, Jurnal Medical Braşovean, nr.1/2016, p. 94-100, Braşov, 2016, DOI: http://webbut.unitbv.ro/jmb/JMB%202016%20nr%201/02_08_original_spital%20mobil.pdf, ISSN: 1841-0782, e-ISSN: 2247-4706, indexed in Open Academic Journals Index, ProQuest.
Cotfas, D.T., Floroian, L., Cotfas, P.A., Floroian, D., Rubin, R., Lieberman, D., The study of the photovoltaic cells parameters in concentrated sunlight in Proc. Of 2014 Int. Conf. on Optimization Of Electrical And Electronic Equipment (OPTIM 2014), Romania, pp. 707-712, ISBN:978-1-4799-5183-3.