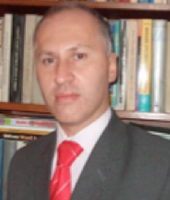 Șef Lucr. Univ.
Departamentul Inginerie Electrică și Fizică Aplicată
Facultatea Inginerie Electrică și Știința Calculatoarelor
Contact:
Str. Universității nr. 1 Brașov, Romania
Corp C, sala CP18
Tel./Fax: +40 268 412921
E-mail: boera@unitbv.ro
Interese
de
cercetare:
fizica computațională,
fizica statistică,
optică,
măsurători hiperspectrale
Publicații
A. Boer, GPU-based simulation of the long-range Potts model via parallel tempering, Computer Physics Communications, Vol. 185 (issue 7), pages 1932-1937, 2014.
A. Boer, Monte Carlo simulation of the two-dimensional Potts model using nonextensive statistics, Physica A, Vol. 390 (23-24), 2011.
C. Croitoru, S. Patachia, N. Cretu, A. Boer, C. Friedrich, Influence of ionic liquids on the surface properties of poplar veneers, Applied Surface Science, Vol. 257 (14), 2011.
Cristea, L; Luculescu, MC; Zamfira, SC; Boer, AL; Pop, S; Multiple criteria analysis of remotely piloted aircraft systems for monitoring the crops vegetation status, IOP Conference Series-Materials Science and Engineering, 147, 2016.