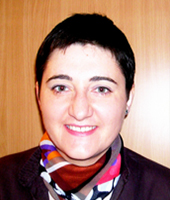 Conferențiar universitar
Departamentul de Inginerie Electrică și Fizică Aplicată
Facultatea de Inginerie Electrică și Știința Calculatoarelor
Contact:
Str. Politehnicii nr. 1, Brașov, Romania
Corp N, sala NI3
Tel./Fax: +40 268 474718
E-mail: luminita.barote@unitbv.ro
Interese
de
cercetare:
surse regenerabile de energie,
stocarea energiei electrice,
microretele inteligente.
Publicații
(selecție)
Barote, L., Marinescu C. (2018). Current-Controller Effectiveness for Grid-Connected Converters: Comparative Case Studies, Journal of Energy Engineering, vol. 144, no. 1, https://doi.org/10.1061/(ASCE)EY.1943-7897.0000502.
Barote, L., Marinescu C. (2014). Software Method for Harmonic Content Evaluation of Grid Connected Converters from Distributed Power Generation Systems, Journal of Energy, vol. 66, pp. 401-412, https://doi.org/10.1016/j.energy.2013.12.050
Barote, L., Marinescu C., Cirstea, M. N. (2013). Control Structure for Single Phase Stand Alone Wind Based Energy Sources, IEEE Transaction on Industrial Electronics, vol. 60, no. 2, pp. 764-772, http://www.aece.ro/displaypdf.php?year=2012&number=2&article=14.
Barote, L., Marinescu C. (2012). Modeling and Operational Testing of an Isolated Variable Speed PMSG Wind Turbine with Battery Energy Storage, Advances in Electrical and Computer Engineering Journal, vol. 12, no. 2, pp. 81–88, doi: 10.4316/AECE.2012.02014.
Barote, L., Marinescu C., Serban, I. (2010). Energy Storage for a Stand-Alone Wind Energy Conversion System, Rev. Roum. Sci. Techn. – Électrotechn. et Énerg., vol. 55, no. 3, pp. 235–242, http://revue.elth.pub.ro/viewpdf.php?id=235.